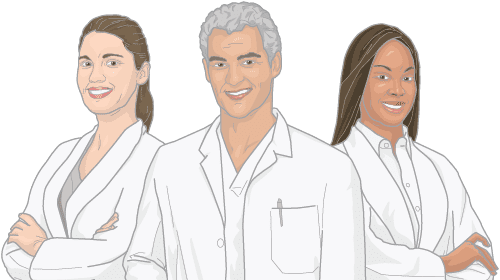 PHARMACISTS:
We are here to improve health through better access to vaccines.

Improved access saves lives
Every year, around 42,000 Americans die of vaccine-preventable diseases.

Stopping disease before it starts
Evidence in medical literature suggests pharmacies can help reach previously difficult-to-reach populations.

More timely prevention
62% prefer to receive vaccinations in pharmacies rather than in other settings, mostly due to convenience.

Prevention within closer reach
Roughly nine out of ten Americans live within five miles of a community pharmacy.

Pharmacists: safe & convenient solutions
With rigorous professional training, pharmacists play an important role in preventing and treating disease.
"Each state imposes restrictions on pharmacists regarding the vaccines that they can administer. Many of these restrictions are excessive, despite the evidence that pharmacists can administer vaccines safely and effectively. Since pharmacists are an important provider for administering vaccines, these restrictions are, effectively, an access barrier in the delivery of vaccinations."
Other Research
& Articles:
Who benefits from more accessible vaccines?
Access for patients with no or limited access to primary or routine medical care
Protection for acutely and chronically ill patients
Encouragement and access for those who wouldn't otherwise get vaccinated
Convenience for people who live far from or lack transportation to their physicians' offices
Access for people who cannot get vaccinations during their physicians' or clinics' business hours
Documentation of vaccines into Immunization Information Systems (IIS)
Improved management of patient care activities because physicians' time is freed up to focus on patients' complex and urgent medical issues
Access for communities of need, especially low-income communities after low-income, underserved communities, or communities of color, where vaccination is less common or less accessible
Fewer outbreaks across society, as a whole